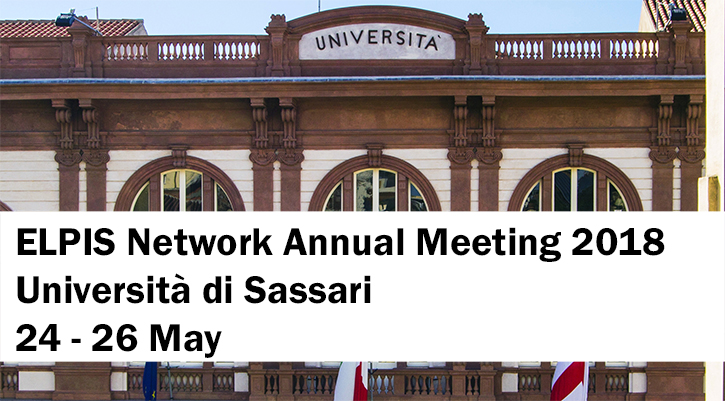 2018 Annual Meeting, Sassari
This year, the annual ELPIS Meeting will take place in the Università di Sassari, from May 24th to May 26th.
How to get here
The closest airport is Alghero (AHO), about 30 Km from Sassari. There are flights from Rome (Blue Air, in codeshare with Alitalia for connecting flight) Turin (Blu Air) and Milan (Alitalia). There is also a selection of low cost and charter flights operated by Ryanair, Easy Jet, Volotea and other carriers. Olbia airport is the main base of Air Italy (former Meridiana). There are flights operated by other carriers too. It is about 90 km from Sassari. The Colleagus from Università di Sassari recomend the Alghero airport.
Hotels
Hotel Leonardo da Vinci Ten minutes walking from the main building of the university, where ELPIS meeting is planned. Website: https://www.leonardodavinci-hotel.it/ E-mail: info@leonardodavincihotel.it Reservation Code: "ELPIS" Rooms: Camera singola – € 50 a notte a camera [one-bed room] Camera francese – € 55 a notte a camera [ one french bed/grand one-bed room] Camera dus – € 60 a notte a camera [double-bed room on the basis of a single occupancy] Camera matrimoniale / doppia – € 65 a notte a camera [double bed or two bed room]
Cafe Bleu Relais – Sassari Very close to the Faculty Website: www.cafebleurelais.it E-mail: info@cafebleurelais.it Reservation Code: Agreement with our Department for the event of European Legal Practice Integrated Studies May 24/26 Rooms: Camera Singola Classic – per 1 pax 85,00 euro a notte iva inclusa Camera Singola Superior – per 1 pax 90,00 euro a notte iva inclusa Camera Matrimoniale (letto alla francese) – per 2 pax 92,50 euro a notte iva inclusa Camera Matrimoniale Standard – per 2 pax 95,00 euro a notte iva inclusa Camera Matrimoniale Superior – per 2 pax 115,00 euro a notte iva inclusa